If you've found this forum, then you have an obvious interest in the Piranha.
This write up is aimed towards the hobbyist that has never owned piranha before. You may have seen a documentary, or been in a local fish shop and happened to see a few live specimens for sale. In my write up I'm going to help you choose tank sizes, equipment, cycling your tank, choosing a piranha, introducing your new fish, and general care in the early days. I hope this write up helps you make the best choices for your piranha, you, and your wallet.
The first topic we will discuss is going to be what kind of piranha do you want? For the new piranha keeper, choosing a fish can be hard because there are so many kinds of piranha and each bring something new to the table. I'm going to reduce the confusion by recommending red belly piranhas for group fish, and spiloplueras or maculatus for the solo fish. The red belly piranha is the cheapest and easiest shoaling piranha to keep. They are a great 'learning fish' for the new aquarist. Their tanks are active and lively, and their feedings are exciting and fast. Red belly piranha, RBP, are inexpensive and can be found for sale at any size needed. There is no shortage of RBP. If the school or shoal of fish isn't what you want, then maybe look more into solo piranha. There are many piranha that do best alone in their tank. The two solo piranha I suggest, the maculatus and the spilopluera, are both beautiful and have a wonderful personality. So decide what kind of piranha you want. The group of red bellies, or a solo mac or spilo.
Spilo and Maculatus (Photos used with permission from OPEFE)
Spilo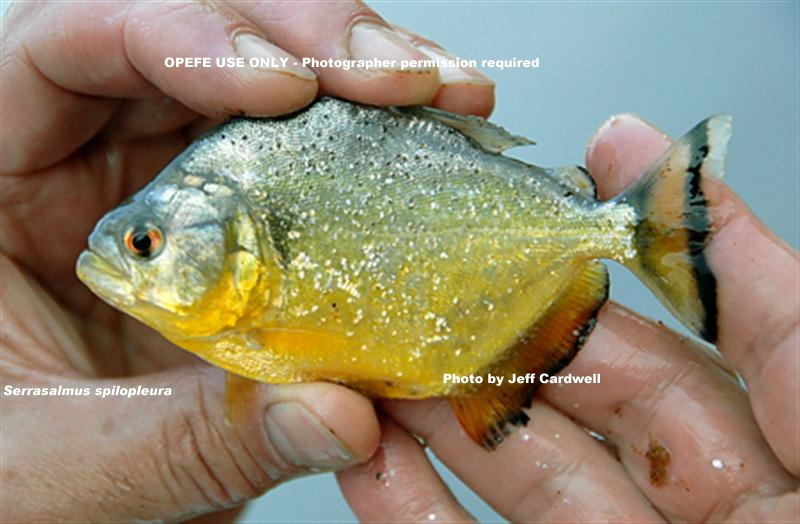 Mac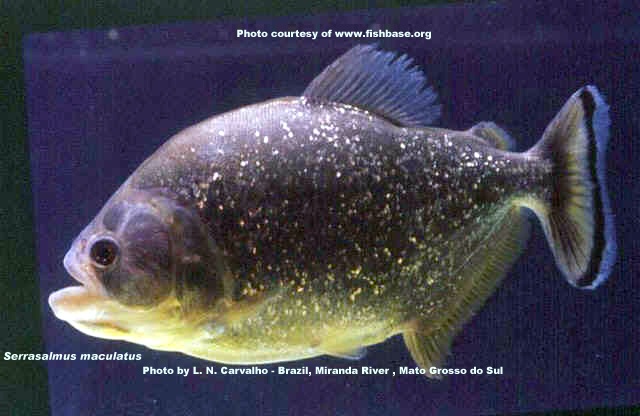 The same fish, same tank, two months later.
Next order of business is the tank. If you chose the Red bellies, we need to stop to think about how many to determine how big the tank needs to be. 10 RBP babies would thrive in a 55 gallon tank, for a few months. Red bellies grow fast. A common mistake is a person buys a few rbp's and puts them in a 10-20 gallon tank. They fit now, but not in a month. RBP grow about an inch a month for the first 6 months. With that said they need tanks wider than normal. A fully grown red belly is usually around 10-12". a 20 and 30 gallon tank is only 12 inches wide. Piranha dont care so much about top water as they do about their tank's footprint. Having a single red belly piranha I would recommend a 40 gallon breeder tank. This tank is 36 inches long, and 18 inches wide. Quite a large footprint compared to a 55long which is 48 inches long and 13.5 inches wide. Now with this said, I believe a 30 gallon long tank would be the minimum for a mac or spilo. But a 40 gallon would be best for the new aquarist. The general rule of shoaling piranha is to have 5 or more. The more the better. So we'll say for the beginning aquarist, 5 rbp babies, or juvieniles, in a 75 gallon tank. The 75 gallon tank is 4 feet long, and 18 inches wide. The 90 gallon tank is the same but a few inches taller. Remember this is just a guide line, if you can afford a bigger tank dont hesitate. These fish get big, and they get territorial. They need their space. So to sum this all up, A solo spilo, mac, or RBP should be fine in a 40 gallon breeder tank, and a shoal of rbp should be in a 75 gallon or larger.
Now that you've got your new tank its time to think about what equipment you're going to need. Filtration is the first and foremost issue here. The cheap Hang on Back (HOB) filters that come in those package deals aren't for us. We're looking at canister filters or high end HOB filters. The aquaclear line of HOB filters are inexpensive and easy to maintain. Otherwise piranhas need a canister filter. When shopping for a filter don't look at the "how many gallon tank" rating on the box. Look for the gph rating. You want to filter all the water in the tank multiple times an hour. So if you have a 40 gallon tank, find a canister filter rated for about 160 gph. If you have a 75 gallon with multiple fish, look for filters closer to 300gph. These canister filters you're looking at should price out between $90-$200. The filtration means everything in your tank. Now for the heaters. The safe way to do this is to get two medium sized heaters. A 200w heater can handle a 40 gallon no problem, but its safer to have two 100w heaters instead. If one heater breaks then the water wont freeze til you replace it.
Multiple Heaters
Okay! Now you got your new tank and equipment home. Once you set up the tank on its stand, add substrate, water, treat the water, add decorations, put in the heaters and set the temp, connect the filter(s) and get them running. It looks like a fish tank, but there is no fish! We're going to start the nitrogen cycle. There is a cycle that happens in a fish tank and I will do my best to make understanding it simple. Fish, food, dead fish, and dead plants give off a chemical called ammonia. This ammonia is poisonous to fish. There happens to be a bacteria that grows in your filter media, your gravel, and decorations that "eats" ammonia and gives off nitrite. Nitrite is also poisonous to fish. But luckily there is another bacteria that grows and it "eats" nitrite and gives off nitrate. Nitrate is safe for fish and this is what live plants take in for growth. When this cycle starts it has HUGE spikes in ammonia and nitrite, enough to kill our beloved fish. After the initial cycle the tank creates a well balanced system that keeps the ammonia and nitrite levels down. There are many write ups out here that actually walk you through cycling. They go into much more detail.
Now that your tank is cycled, it ready for your PIRANHA! Do not just dump them into the tank! We have to acclimate them to the new water. I like to put the piranha in a bucket with his transport water. and slowly add water from the new tank to his bucket. After about 30-45 minutes the water should be the same temp, hardness and pH to introduce the piranha into his new home. Try to do this as stress-free as possible. Once your piranha is in the tank, let him calm down and explore his surroundings. They may not try to eat for a few days. Leave the tank lights off for a few days. Slowly get them into the normal routine. They are stressed, and scared, and it will take a little while for them to calm down. If you have baby red belly piranhas don't wait to feed. These guys are used to eating 2-3 times a day. Many argue that the baby piranha cannibalism is because of hunger.
Welcome to the piranha owning community! Keep watching your fish and keep reading here at the forum. You'll learn alot and soon your fish will start to show it. Thanks for reading!
All photos were my own photos or from the OPEFE website used with permission. Don't steal people's photography without permission.
Edited by Scars, 20 July 2012 - 08:19 PM.